Travelling overseas always requires a lot of planning and packing even more so if you are planning to ride or race overseas. I'm getting ready to head to India to race the Pune Invitational Supercross there next week and I'm giving you a little inside on what it takes to get there.
Luggage: I'm a big fan of Ogio bags. I've been using Ogio products for many years now and I'm very happy with the durability and space they offer. I'm only going to India for one week with a total of four days of riding so I decided to pack light and only travel with one checked bag.
Gear Bag: Ogio 9800
Carry On: Ogio Layover
Backpack: Ogio Gravity Backpack
Four days of riding requires four sets of gear (jersey,pants,gloves,goggles) a set of boots, knee braces, chest protector and a helmet. I use my gear bag for all my riding gear. I protect my helmet by putting it in an extra helmet bag to make sure it gets to my final destination in one piece. I also pack my jersey in that helmet bag to give it some extra padding and also to save some room for the rest of my stuff.
I also bring a couple tools to make sure I'm able to set my bike up once I get there. A set of T-Handles, a couple wrenches and a small screw driver are always coming with me.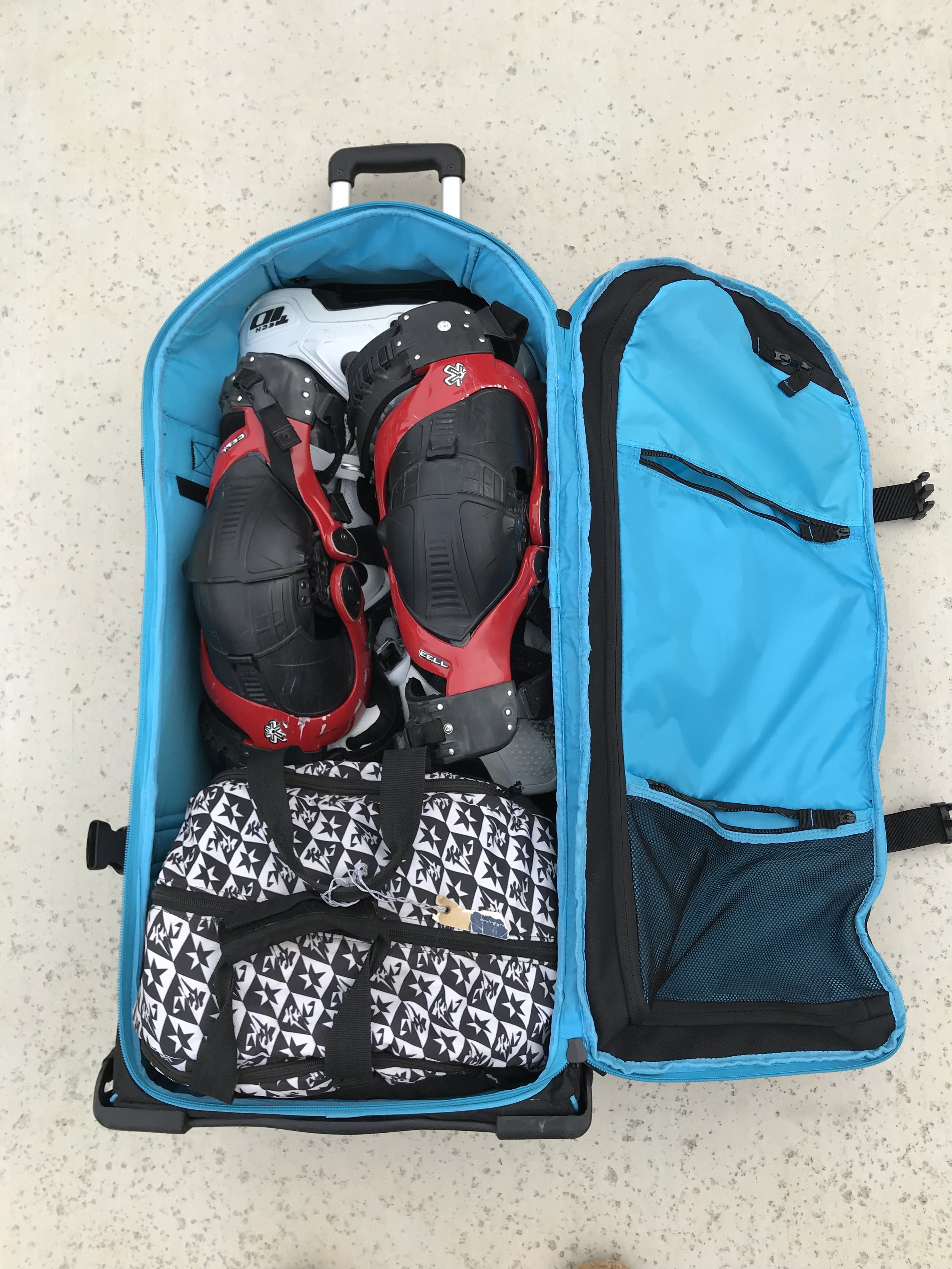 The top pocket of my gear bag is for snacks. Travelling to far away places and not knowing what you will eat can make a race weekend very long and difficult. I learned this the hard way when I first started travelling 10 years ago so nowadays I always pack energy bars, a bag of trail mix and a couple small protein snacks to give me some energy in case the local cuisine only serves crickets and fried lizard (It happened before).
Lastly I always bring a couple posters and stickers from my great sponsors. For this trip to India Top 1 Synthetics hooked me up with some really cool key rings that I will be handing out over the race weekend.
My carry on luggage has all my casual clothing, underwear, deodorant and a tooth brush. It's always nice to have your every day clothes with you when you land. There is nothing worse than finding out that your luggage didn't make it after you've been travelling for 24 plus hours so it is good to know you will have some clothes to wear when you get to the hotel.
My backpack carries my laptop, my camera, phone chargers, my note pad and a sweatshirt in case it gets cold on the flight.
That's it. That is my packing list for next weekends race in India. I'm excited to go see a new country that I haven't been to yet and I'm looking forward to meet many new Motocross enthusiasts over there.